What are the things that will impact your course and its design?
Let's focus our attention more deeply on your course. To begin, you'll need to collect and carefully analyze information about the various factors that will affect your course design. A thorough analysis of these factors—known as situational factors (Fink, 2013; for an overview, see Situational Factor Considerations graphic on the right)—will not only help you identify important needs and contextual factors right now, but also help you later as you answer design questions about learning goals, meaningful forms of feedback and assessment, and appropriate teaching and learning activities. Skipping this step or doing a cursory job can easily lead to misinformed decisions later on.
The instructional modality of your course—whether face-to-face, tech-enabled, hybrid, or online—is a situational factor. Because online instruction disrupts many common face-to-face teaching practices, it's important to carefully consider the impact this particular modality has on your course. It will likely alter the ways you interact with students, ways they interact with each other, when these interactions occur, how students access content, how their learning is assessed, how they receive feedback, and so on.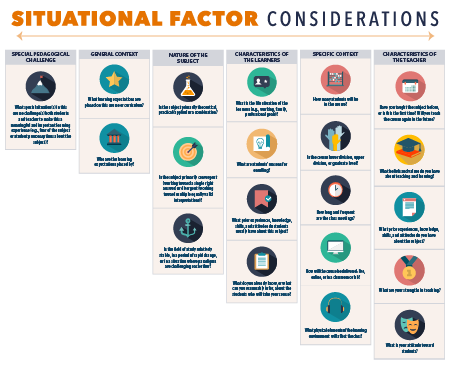 Click to
view a high resolution PDF
.
---
Your Situational Factors
To encourage a more thorough analysis of your situational factors, we suggest a two-step approach, beginning with self-reflection followed by factor analysis.
Step 1: Self-reflection
When designing your course, it is important to take a step back and first reflect on your role as the instructor. Use the following prompts to think about the significance of your identities and beliefs as it relates to teaching and students. We encourage you to write out your responses.
What are your identities?
How might students perceive your identities?
In what ways do your perceptions of students draw on stereotypes and biases?
How do you perceive students?
Do your perceptions of students affirm stereotypes or biases?
What do you intend to do to mitigate your pre-disposition to stereotypes and biases?
Step 2: Factor analysis
Now, consider the specific situational factors that are relevant to your course. Feel free to work directly in the space below. Since all your responses are saved, you can quickly refer to them later on. Also, the last step allows you to export your responses for easy printing. We've included some helpful questions for you to consider when thinking about each of the situational factors we've identified. You can see these by clicking the More info link near the top of the form. The questions will change depending on the type of situational factor you're exploring.
---